Category: Commercial
The Nuclear Advanced Manufacturing Research Centre (Nuclear AMRC) at Infinity Park in Derby, completed this year by construction partner Stepnell, has been awarded 'construction project of the year' at the 2023 East Midlands Property Dinner.
Stepnell shares the achievement alongside partners and stakeholders Infinity Park Derby, University of Derby, Nuclear AMRC, University of Sheffield, Derby City Council, Wilson Bowden, D2N2, Peveril Securities, Gleeds Management Services, BWB Consulting, Stephen George + Partners, and FPCR Environment and Design.
The facility provides a permanent base in Derby for the University of Sheffield's Nuclear AMRC, part of the UK's High Value Manufacturing Catapult. It is also the new home for the University of Derby's Institute for Innovation in Sustainable Engineering (IISE). The project was commended by the judges for exemplifying the importance of strong public-private partnerships.
Tom Sewell, regional director at Stepnell, said: "We're proud to be recognised by our peers in the region for bringing this world-class nuclear research facility to fruition. The centre will serve an important role as a hub in the East Midlands that will support the energy transition to more sustainable technologies. "Our depth of knowledge and collaborative approach enables us to deliver tremendous end-to-end value as a complete construction partner. We took advantage of all the specialist expertise from our local supply chain partners and across our team to achieve the desired outcomes on this complex build. "This included implementing a sustainable ground improvement solution and using the crafting expertise of our joinery team for the welcome area inside the facility."
The complete construction partner provided local employability and careers support, T-level work experience and training opportunities on site. Car sharing was also encouraged, saving a total of 151,382 miles, equivalent to 52 tonnes of CO2. Furthermore, Stepnell prioritised a regional supply chain, achieving 67% local spend within 30 miles.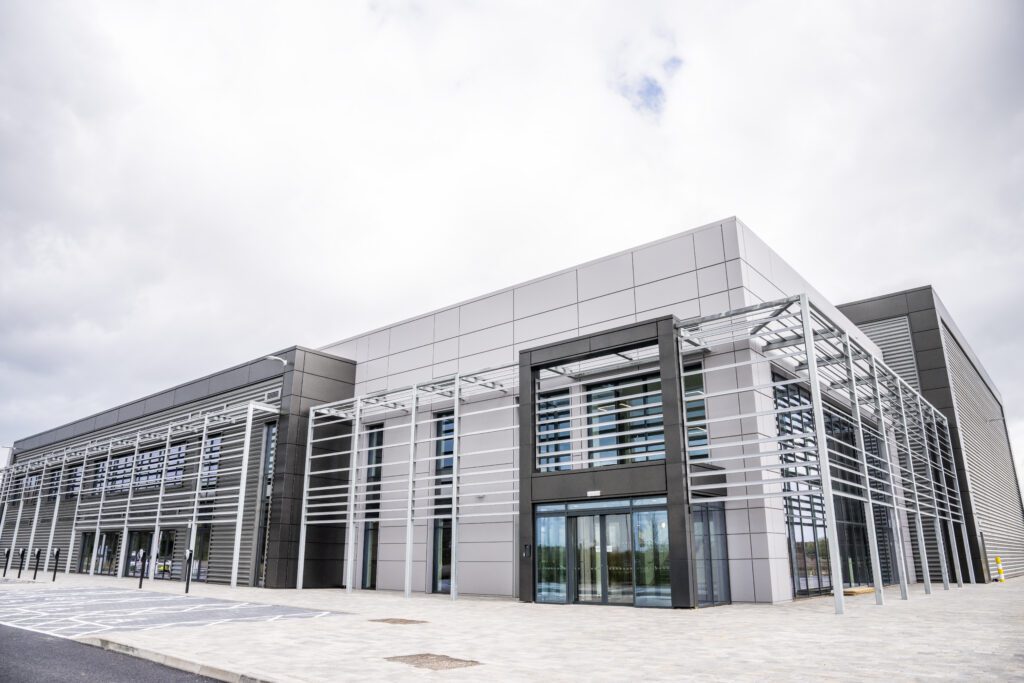 Nick Richardson, director at Infinity Park Derby LLP, said: "We are proud to be associated with the development of the Nuclear ARMC at Infinity Park in Derby. This has been a great team effort, showcasing the power of collaboration and strong public-private partnerships. We are currently working on the delivery of 3 further facilities on Infinity Park which just goes to demonstrate the strength of the location and what we have to offer at Infinity Park."
The facility features 590m² of roof-mounted solar panels, generating around 83MWh of low-carbon energy per year – with estimated emissions savings of more than 19 tonnes of CO2 compared with the average grid supply. The building also includes sustainable materials throughout including cladding, insulation and glazing, with site landscaping to increase biodiversity and green cover.
These commitments contributed to Stepnell achieving an 'excellent performance' score of 43 out of 45 from the Considerate Constructors Scheme (CCS).
Councillor Nadine Peatfield, cabinet member for city centre, regeneration, culture and tourism at Derby City Council, said: "We're delighted that the NAMRC Midlands has won this award, which is a vote of confidence for the city and our growing nuclear cluster at Infinity Park Derby. "Like all construction projects of the past few years, this project has had its challenges but we're proud to have worked closely with partners to deliver a site that reaffirms Derby's place as a leader for innovation, manufacturing and world-class research and development."