Demolition of four garages and a redundant sports centre, and site preparation works for the redevelopment of two sites on Charlotte Street and Shaftesbury Sports Centre.
CLIENT: Derby City Council
VALUE: £120k
CONTRACT: NEC4 Engineering and Construction Short Contract
FRAMEWORK: SCAPE
Located close to Derby city centre, the area is a deprived part of the city and has a history of anti-social behaviour, Derby City Council have unsuccessfully tried interventions in the past to clean up these sites. It is the Council's plan to replace the garages and existing car park with a new larger car park, our works have facilitated this plan.
Key risks and considerations throughout the project included consistent stakeholder engagement with the local community and businesses due to its busy location, and maintaining the safe use of surrounding footpaths. Asbestos removal was required at the Charlotte Street site, and 24 hour security for the duration of the works to prevent unauthorised persons entering the site.
Legacy waste on and around the project was another constraint issue with fly tipping common and frequent in the area. We worked with Derby City Council and its Street Pride Team who helped us remove waste to manage the issue.
"Kane was a very good site manager, working on a particularly unpleasant site. He communicated well with local residents, and completed the work earlier than programmed. Communication was good throughout and all handover documents were sent to DCC shortly after completion. All applications for payment were made on time, and Stepnell supported DCC in issuing interim applications to help with our end of year financial cash flow." Clare Hill – Principal Building Surveyor MRICS, Derby City Council
Social Value achievements
Derby City Council has a commitment to promote lifelong learning, inclusion in learning and employment and supporting people into employment which matches one of our key areas of social value.
Throughout the projects we have formed partnerships with City of Derby Academy, Landau Forte College and Derby Pride Academy, the latter being an alternative education provider for vulnerable and challenging young people, and with Derby College.
Derby Pride Academy brought nine students along to our office to take part in our two-hour workshop "Professional Roles in Construction" which is designed to help schools achieve Gatsby Benchmark 6 "Experience of workplaces". This comprises an introduction to Stepnell, explanation of routes into construction, speed networking with our employees and an office tour giving opportunities to speak to more people in a wider range of roles.
We also include a STEM challenge to help participants demonstrate their leadership, teamwork, design and planning skills. Some of the students were reluctant participants initially but with a wealth of experience of their own, their family and friends, our employees were able to give guidance about the importance of values and qualities that employers look for, regardless of experience and career choice.
"Many thanks for arranging the event for our students today. We all really enjoyed coming over to take part and out students gave positive feedback, even those who were a bit quieter." Nicky Smith – Careers Lead, Derby Pride Academy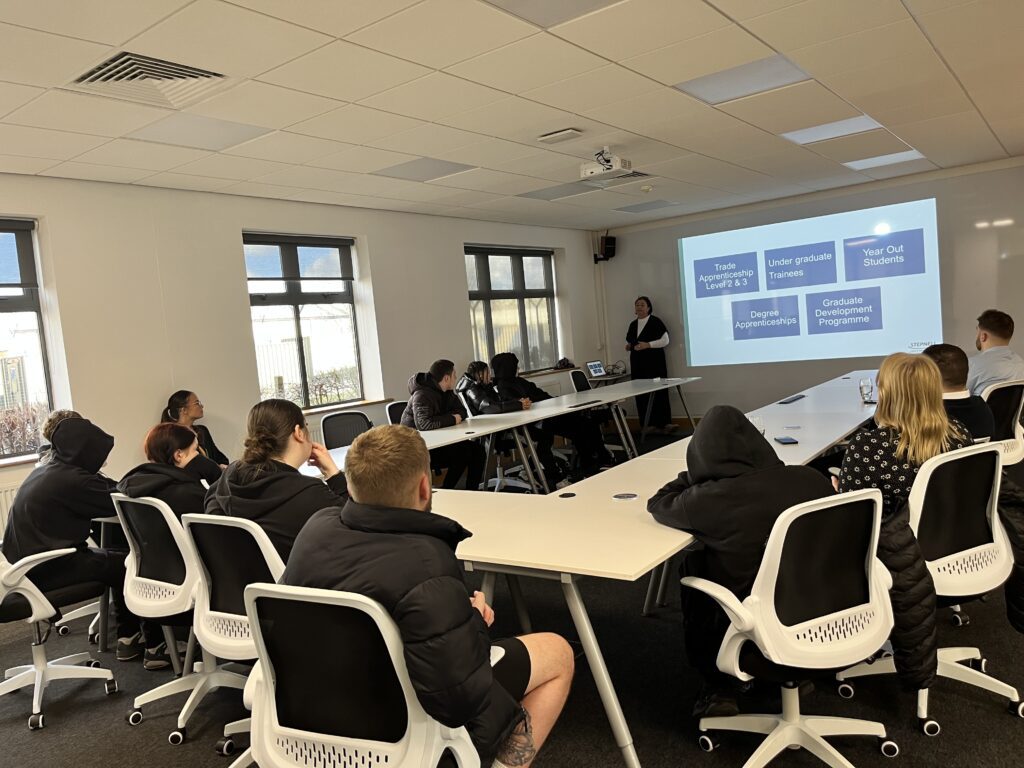 We conducted mock interviews for 11 students over 4 hours at Landau Forte College. The students were from Year 10 and it was their first experience of being interviewed by a business volunteer.
Summary
100% of our employees lived within 30 miles of site
100% local spend within 20 miles
22 hours of support into employment was provided to local schools and colleges
1.25 hours of expert advice to VCSEs on understanding social value in the built environment