Redevelopment of the former Worcester News Building to create state-of-the-art teaching facilities.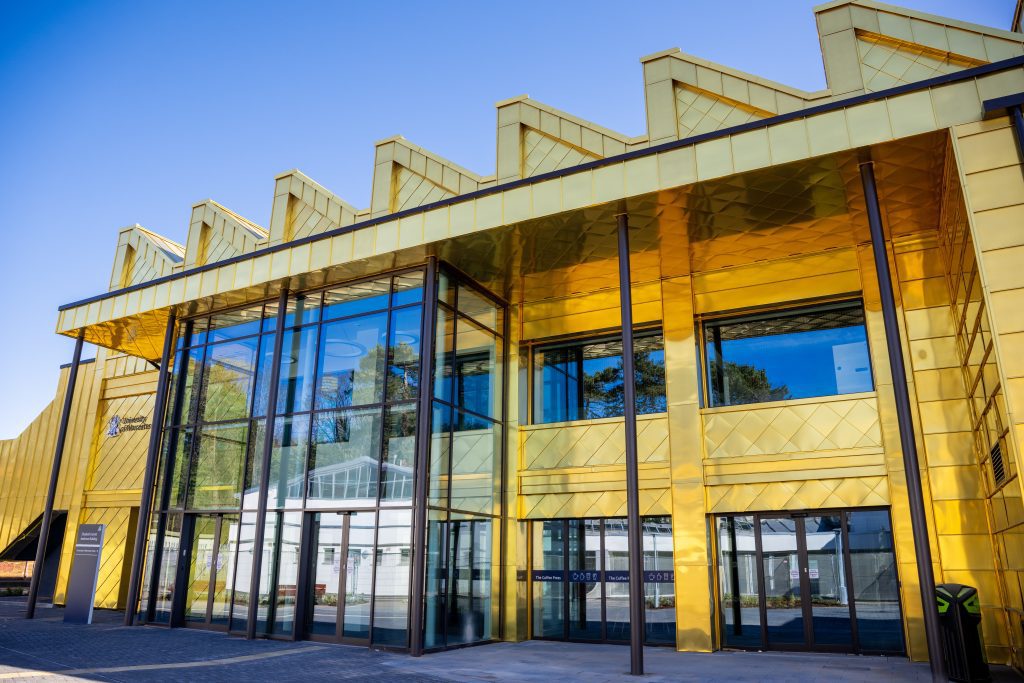 CLIENT: University of Worcester
ARCHITECT: Glancy Nicholls
PROGRAMME: 96 weeks
VALUE: £11.5m
A new state-of-the-art teaching centre for health and medical students at the University of Worcester. Named after Elizabeth Garrett Anderson, the first woman to qualify as a physician and surgeon in the UK, the building provides outstanding facilities for the University's health students.
Formerly home to the Worcester News, the iconic building has undergone a complete transformation, from drab concrete to a beautiful golden colour which restores its elegant lines.
Inside, the space has been transformed with a new atrium, simulated GP consultation rooms, light and spacious social learning spaces and a café with indoor and outdoor seating. The space is now home to a new anatomy suite with high-tech equipment for students to learn about the human body.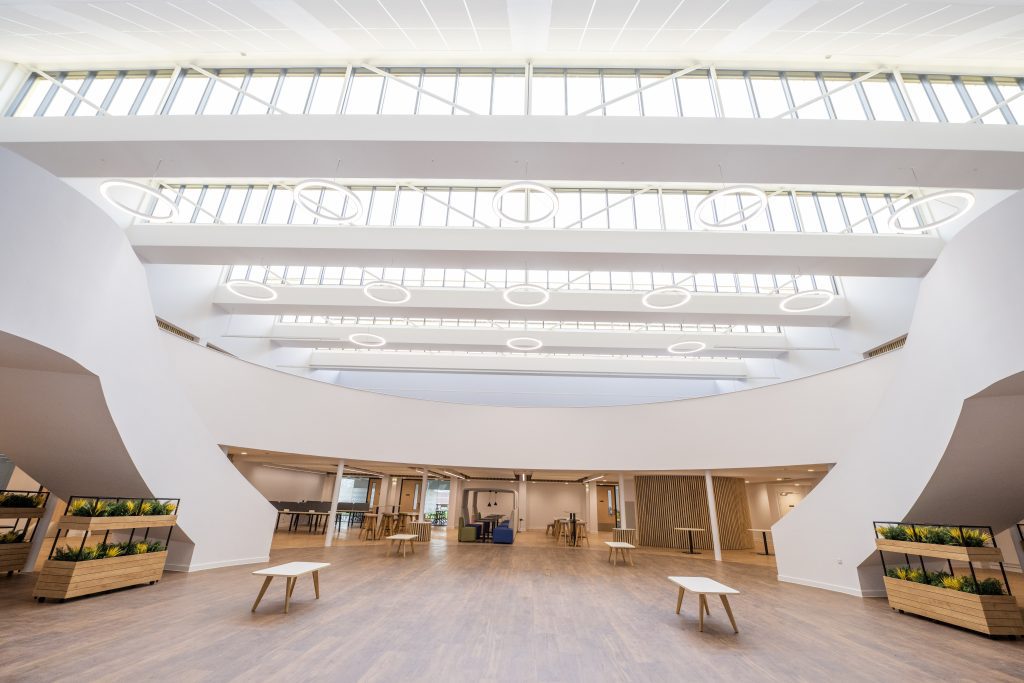 The refurbishment has been completed to outstanding environmental specifications, achieving a Gold SKA environmental rating from the Royal Institution of Chartered Surveyors.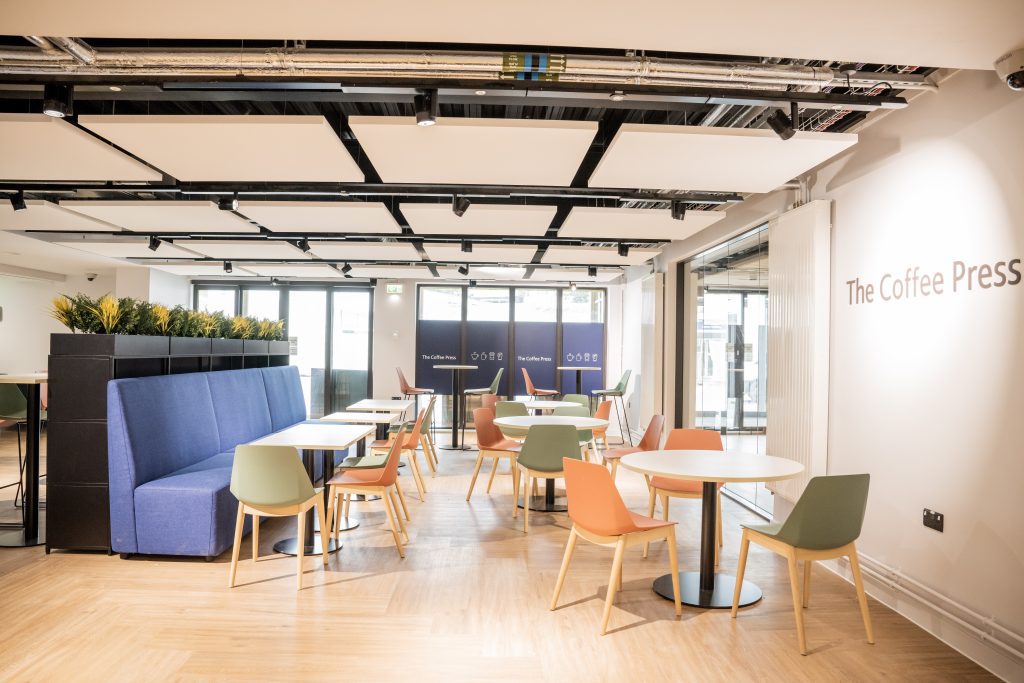 Our health and safety remained at a high standard throughout the delivery of the scheme and remained high until practical completion in April 2023. We used the Biosite system with a turnstile which helped to help monitor and control the people on site at any one time.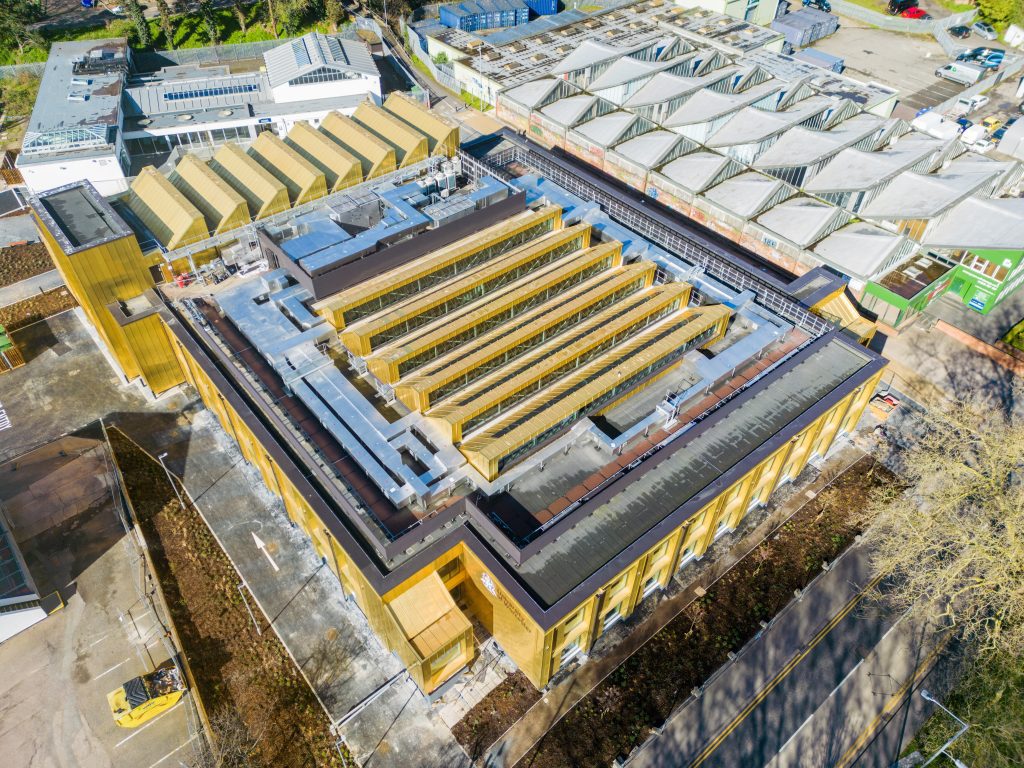 Key Project Achievements
BIM Level 2 project using Occulo system. Point cloud survey undertaken on the building to identify schedule of concrete repairs – taking 72-hours rather than 3-weeks by surveyor.
Installed bespoke gold copper shingles and sheet 'Tecu' as rainscreen cladding
Refurbished and retained existing northern lights across atrium
Completed new MEP install
Bespoke joinery formed anatomy and foyer wall cladding
EPC rated 'A'
Air Source Heat Pumps used as the primary source of the buildings hot water needs
Solar panels placed strategically on the North Lights are generating electricity.
Effective reuse of the existing foundations and frame has secured significant carbon savings when compared to the potential impact of a new build structure.
Achieved over £4 million in social value (over 30% of the contract value), exceeding targets.
Local Social Enterprise, Jericho, are used as part of the Community Wood Recycling Scheme, to collect all waste wood from site.
Collection point on site for Worcester FoodBank and collect donations of food and toiletries from the project team, supply chain and local residents.
A Community Cabin was set up on site, including room for careers and community engagement containing project information, wellbeing guidance, blood pressure monitor and scales enabling the workforce and members of the local community to monitor their health.
Community Surgeries are held in the Community Cabin on the first Friday of each month.
"This will be an inspiring place for the medics and health professionals of the future to learn – the team has faced challenges throughout the project but are on track to deliver a first class facility. We said from the start we would work collaboratively – we have. Stepnell signed up to our ambitious plans to make the building as sustainable as possible – they are on track to deliver. They also signed up to our Social Value aspirations and smashed them out of the park. Colleagues have worked passionately to deliver this vision – they should be very proud. Thank you! Hopefully the City of Worcester will have pride in the building for years to come" Mark Evans, Assistant Director – Estates at University of Worcester